About Ankit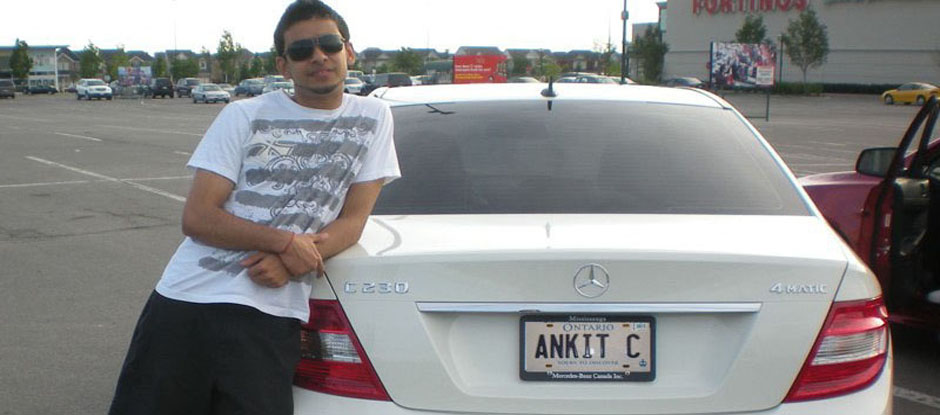 "Life is like a blanket too short. You pull it up and your toes rebel, you yank it down and shivers meander about your shoulder; but cheerful folks manage to draw their knees up and pass a very comfortable night." ~Marion Howard
Ankit personified this quote. He had always been a cheerful person who made the most out of his life. Ankit was the type of person who could cheer you up when you felt the world collapsing around you and if you needed any help at any time, you could count on him without a second thought. Ankit loved life, enjoyed the company of his family and friends, and would go out of his way to help others even at a young age and he carried this trait to the end of his life. He lived life to the fullest without any regrets. He always had it in him to change the entire atmosphere of wherever he was and just make you smile with him. You would forget about all your worries and just sit back and kick it.

Born on November 18, 1989 in the city of Hoshiarpur, India, Ankit did his elementary schooling at St. Xavier's at Chandigarh before migrating to Canada at the age of 11. He had very successful high school education at Fletcher's Meadow Secondary School and received a scholarship for university. Ankit joined the Ted Rogers School of Information Technology Management at Ryerson University. He was a brilliant student and was in 2008/2009 ITM Dean's List. He was a 3rd year co-op student at Ryerson University and was working with Environment Canada as a Web Developer when he sustained life-threatening injuries in a fatal car crash and left for his heavenly abode seven days later. Throughout his education, he stayed involved with extra-curricular activities while excelling in his studies as well. He participated in the United Way's CN Tower climb and finished his climb of 1776 steps in 17.49 minutes.

Ankit loved sports and Cricket was his passion. He would wake up at 3:00 AM in the morning everytime he needed to and made sure he saw all the games of his favourite team, India. He wasn't just a bookworm who got great marks in school; he was also the Captain of Cricket team at his high school, Fletcher's Meadow, and received the MVP (Most Valuable Player) Award.

Akit enriched people's life with his attitude, intelligence, and modesty. Ankit touched the lives of all those he came in contact with, with his "ten feet" smile as his friends call it.